Weed Patrol - Saturday Mornings at 8:00 AM, May-October
 Weed Patrol is a volunteer program from 8-9 AM Saturdays (May - October) designed to help maintain our church and school grounds. After just 1 hour of trimming, weeding, mulching, and transplanting, we meet on the back patio for the most important part...Starbucks coffee and decadent treats!
The 2022 season of Weed Patrol will run on most Saturdays until mid-October. Check our calendar to confirm.
All ages and skill levels are welcome (children younger than middle school age must be accompanied by an adult).
Please don't think you have to commit to coming every Saturday. Just come when you can, even if it is just a couple of times during the summer. Every little bit is a big help. If you cannot join us for the gardening part there are other ways to support the cause, like providing the treats. This program saves the church thousands of dollars and it is fun, so come join us on Saturdays at 8 AM! 
Questions? Email Cara Clay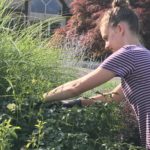 Lakeville Mill Thrift Shop Sale- Friday, September 23rd & Saturday, September 24th, 9 AM - 5 PM
The "Lakeville Mill" is an old converted mill that now houses a privately-owned seasonal thrift shop. Official address: 1381 Milmine Rd. Leonard 48367. A three-story white building with a red roof, about a 10-minute drive north of Oak Arbor on Rochester Rd. Proceeds benefit Oak Arbor!
Visit our Lakeville Mill webpage for information on the 2022 Fall Sale!
Adopt-a-Road Fall Clean Up - Saturday, October 1st at 10 AM
​​Volunteers needed (18 years and up) for a road clean-up on Saturday, October 1st. Meet at the church parking lot at 10 AM for a brief safety review before getting started. We will provide safety vests, trash bags, and trash grabbers (bring your own if you have one). 
Oak Arbor Church is responsible for the stretch of Rochester Rd. between Gunn and Mead. (Note: keeping this stretch of road clean enables us to keep the north and southbound "Oak Arbor Church" signs). We appreciate your help.